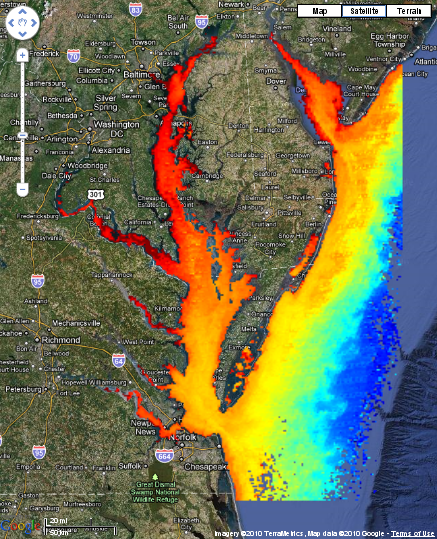 Imagery ©2010 TerraMetrics, Map data ©2010 Google, Overlay NOAA CoastWatch
Chlorophyll is a plant pigment used by algae (or phytoplankton) to convert the sun's energy into food in a process called photosynthesis. The concentration of chlorophyll in the water is often used as an indicator of the amount of algae in the water. If the water is rich in nutrients (such as phosphorous and nitrogen), then algae grow abundantly and may form a "bloom" of algae. Too much algae in the water can result in possible harmful effects such as toxic blooms, depending on the type of algae. In addition, low-oxygen dead zones may form when an algal bloom dies, and the bacteria of decay use up all the water's oxygen in the decay process.
Knowing the chlorophyll concentration is important because it allows coastal resource managers to anticipate potential harmful effects. For example, if the algae in a bloom are toxic, managers may close beaches to prevent people from becoming sick from the toxin. Satellite chlorophyll concentration can be used as an early warning by monitoring the presence of algal blooms.